Solid Rose Gold Dainty Star Necklace
This an absolutely lovely little teeny star necklace is hand carved in solid gold for you. Its a lovely little 3d star shape, with nice form and very pleasing. The perfect dainty gift for someone who is your star, or for you.
Works really well as a necklace stack or on its own. Delicate enough for every day and the kind of thing you never take off.
It measures a teeny 7mm across and is so sweet! Its very simple but beautifully made so you can really see its a high quality piece. there are many star necklaces out there but not lovely like this.
The star is solid 9 carat gold, not hollow so very elegant and classy. The necklace comes wrapped in tissue in a beautiful box with hand tied branded ribbon, it's a really lovely gift.
It comes on an elegant little close tight trace chain which really suits the pendant and is adjustable from 18 inches to 2 inches.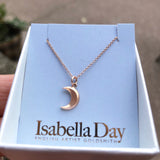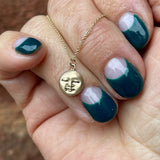 More from this collection