Solid Gold La Luna Moonface Charm Necklace With Ethical Diamond Eye
This lovely little solid gold moonface necklace is cast from a really old vintage charm which we found on a charm bracelet - it's about 50 years old. La Luna!
It has a happy face and a sad face - I love that it has both.
It's darling and adorable, I love the face so much. Its really unusual because its vintage you won't find this face anywhere else.
I have cast it into a new charm for you all, and now my lovely solid 9 carat gold necklace comes on an solid gold chain. This is beautiful elegant jewellery, classy and a really solid piece.
It has a lovely brushed finish and I burnish the high spots to make them sparkle in the light.
You can choose it in rose or yellow solid 9 carat gold. The moon measures 16mm so is a really delicate size, you can wear this necklace every day.
I also have added an ethical diamond eye on the happy side so her has a sparkly twinkle in his eye!
WE CURRENTLY ONLY HAVE THE FOLLOWING IN STOCK: 1X 9ct rose gold & 1x 18ct Yellow gold. ORDERS FOR ANY OTHER ALLOYS CAN BE MADE BUT WE CANNOT PROVIDE IT IN TIME CHRISTMAS.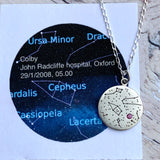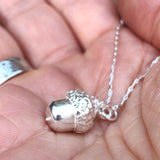 More from this collection