Oak Twig bangle in Solid gold cast from a real English Oak Twig
This beautiful natural bangle is cast from a real English Oak twig ground in the grounds of Cockington Court, a stately home in Devon England, the county in which our Atelier is based. The twig is cast into solid gold and turned into a really stunning bangle.  
It has a lovely heft and feel to it, each of the twigs individual knots and ridges can be felt in the gold , and it comes with a beautiful brushed finished with polished high spots.

Our solid gold bangles are real heirloom investment pieces and ones to treasure.  
As Artisan makers producing all our own work we are rare and unusual crafts people with a real flair for making amazing conversation pieces, everyone will notice your beautiful bangle.  Lots of people stack them with another different twig, we offer Ash, Mulberry and Rose as well as then Oak.
We make these from fair-trade or recycled gold depending on which alloy you choose and they come as as standard, small, medium or large if you don't know what size you require.  However you can also measure the diameter of a bangle you own to get the exact size and we can make them to that.  We are happy to resize any of our bangles for you if the size you order is incorrect. 
Our Artisan work is not sold by the gram weight but our 9 carat bangles weigh around 40g, 14 carat 48g, 18 carat weighs 55g and and 22 carat weighs 63g.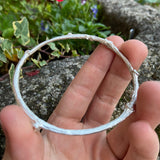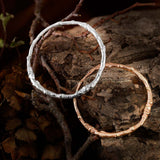 More from this collection