Solid Gold Stackable Rose Twig Bangle
A Beautifully elegant solid gold rose twig bangle, cast from a twig we found near our studio in Cockington. These bangles are our latest addition to the twig collection they're thin and dainty yet have a nice weight when wearing and would look incredible amongst other bangles or as a one off. 
We offer these bangles in silver and 9ct-14ct-18ct Gold.
We created this new range after we had an inquiry for a gold oak twig bangle for a special birthday, however it was not within their budget. So we set out to find a twig that would be more affordable and a lovely gift.
Please let us know what size you would like in the notes upon purchasing.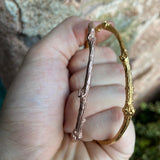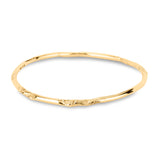 More from this collection