Solid Gold Mulberry Twig Bangle
We made this beautiful Mulberry twig bangle from a Mulberry twig we found in the grounds of Cockington Court in Devon where our studio is based. It's created using a process called Lost Wax Casting where we make a mould of the twig then make a wax copy. The wax twig is encased in plaster of Paris and then we burn out the wax leaving a twig shaped hole where we can pour molten metal! Once we have a gold twig we can turn it into this wonderful bangle suitable for men or for women.

It's a great bangle to wear as part of a special outfit or just for everyday, looks wonderful staked with our other twig bangles.

There are a lot of very old Mulberry trees in the UK, in the 1600's the Tudor's planted many to create a home grown silk industry as silk had become very popular and was expensive.

This listing is for a solid gold version and it has a lovely heft to it. It's definitely a real favourite in the shop and you can have it in your choice of carat and colour.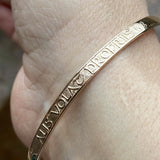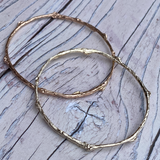 More from this collection