Solid Gold Winking Moonface Necklace - La Luna Charm
A beautiful hand carved one of a kind man-in-the-moon charm necklace. This La Luna vintage inspired necklace is carved to look like the Victorian idea of the man-in-the-moon. This little face was carved using Japanese chisels and punches by the metalwork artist Ford Hallam, onto an original necklace I made. This is a cast of that original piece, hand finished in our workshop in Devon.
The necklace is solid 9 carat gold and has a lovely heft to it, it feels beautiful and elegant with a lovely weight.
The moon face has a lovely cheeky wink to it, he really has fabulous round cheeks and a cheeky lopsided smile. I love him!
We decided he had to be winking!
The necklace comes on a 20 inch chain, long enough to wear over your jumper but if you want it shorter we can do that for you.
The pen want has my hallmark on the back, hallmarked in the London assay office and certifying the quality.
Its a lovely necklace for layering up or as a statement piece. I have one that I wear every day.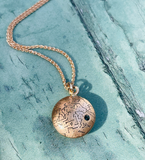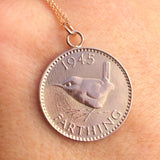 More from this collection