Pastel sapphire sliding solitaire necklace
A beautiful hand-cut ethically sourced pastel Tanzanian sapphire set in solid 18 carat gold.  
I have 20 sapphires I have had especially cut in really beautiful colours, I only have one of each of the ones listed. The sapphires are between 5.5mm and 7mm and you can select your choice. Pay attention to carat and description, the price varies with this and quality but all are lovely whatever you choose. I'm struggling to get Shopify to show you the sapphire videos but if you look on insta here: you can see them. I can also send photos directly if you want to see. Once they are gone they are gone! 

This lovely elegant necklace is really easy to wear, sitting delicately in or just below hollow of your neck.  You measure the exact length you want using a piece of string and I will make it to how you like to wear it.  
It's a really beautiful piece and looks great with everything.  It's solid enough to wear every day.
The necklace comes on a beautiful spiga chain and is fitted to your length. 
I cut out a tiny heart on the back, so its lovely for a gift and it also help to clean the piece. 
The necklace comes hallmarked and certified.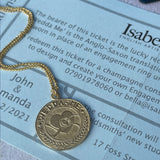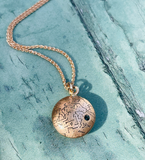 More from this collection