Betrothal charm in solid gold
This is an original idea, the only one in the world and its a solid gold betrothal charm you give when you propose instead of an engagement ring! If you don't know what kind of ring to give your person, or you don't know the size, or you just want to give them the opportunity to design their own ring then this is the jewel for you.  
You tell us your two names and your proposal date if you have it and we will engrave them on the charm for you.
It's hand carved with two twisted trees on the back, growing together as one, and on the front there are hand-fasting ribbons around a heart.  It says 'Wedda me' which is Anglo-Saxon for Marry me.
It comes with a complimentary champagne engagement ring consultation for your person and you to come and see us and we will design the perfect ring together!  This is also available on zoom and if you prefer this we will send you a package with champagne.
Also available in silver, the charm measures 15mm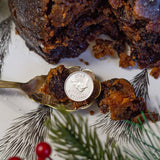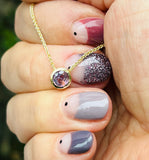 More from this collection