Christmas Pudding Charms - Solid Silver Farthing
This beautiful hand made sterling silver pudding charm is cast from an original 1945 Farthing, and features a delightful Wren bird carving.

It's the perfect size to pop in your Christmas pudding, either before you cook it or last minute as you take it to the table.  Who will be the lucky recipient in your house?
Tradition says a sixpence should go in but we like the farthing better, and it's always fun to see which spoon it turns up in.
Comes optionally with chain in separate pouch,  ready to put on after dinner.

It is also available as a necklace is also available in 9ct yellow gold, white gold and rose gold, please see other listing.
https://www.isabelladay.co.uk/products/solid-gold-english-farthing-necklace?_pos=1&_sid=f35541170&_ss=r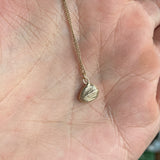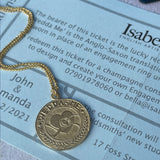 More from this collection