Solid Gold Lined Pebble Pendant
This is a tiny little dainty lined pebble cast into solid gold and is perfect for all the sea and beach lovers in your life. It's so pretty to see such a delicate thing cast into our lovely gold and it makes such a smashing necklace. The textures of the pebble are all visible in the casting which we have very carefully finished to protect the look and feel of the original shell.

These little lined pebbles are really common all along the coastline here in Devon because of the geology here - the line is a harder rock and the softer rock gets worn away around it. We found this absolute beauty of a miniature one here on the beach at Bantham in the South Hams in Devon. This is a place with a special feeling, this part of Devon is remote and wild and really , really beautiful. Its one of the most peaceful places I have ever been, but has lovely wild seas.

Style this with our other beachy shell necklaces or even our amazing crab claw pendant.

The pebble here is shown cast into 9 carat yellow gold and measures 6mm.

It comes on our very own bespoke 3 way adjustable chain, which can be worn t 16, 18 and 20 inches.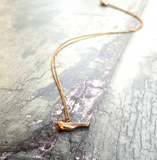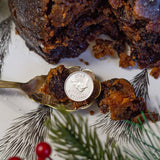 More from this collection