Solid Gold English Pebble Necklace
I found a little pebble at Fishcombe Cove in Brixham and cast it in gold.
They are lovely tiny nuggets of loveliness, a proper tiny talisman in gold. I hunted for ages on the beach at Brixham looking for the perfect tiny pebble for people top wear as a lovely necklace.
These pebbles have a large hole drilled through and the necklace sits straight through the hole so they look really contemporary and elegant.
They are a wonderful gift for people. If you want I can also stamp an initial on the pebble and I do this for free. 
I have done pebbles for mum's with initials of their children on, that's really sweet. A lovely birthday gift, or a best friend gift,. perfect present for Mothers Day or bridesmaid gift.
They really feel lovely to touch and with this special brushed finish you can see the really beautiful colours of rose peach, yellow and pale grey in my gold here. They measure about 10mm in length and have a lovely solid weight.
Comes on an 18 inch chain.
PLEASE SEE MY OTHER LISTING FOR SILVER PEBBLES.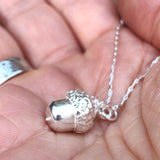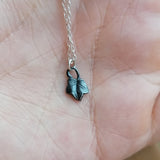 More from this collection