Cherry Blossom 'Sakura" Twig Rings
Our "Sakura" cherry blossom ring is a piece of unusual artisan jewellery made from gold or silver. It's a  unique engagement ring, or simply a nature ring for someone who loves the outdoors, Japanese culture and the beauty of our world.
This cherry blossom ring is emblazoned with gems nestled amongst beautifully reticulated gold or silver branches, with rub-over settings for gem security and to ensure they don't catch.
You can personalise the "Sakura" cherry blossom ring in a number of ways; The gold ring is available in stunning 18k or beautiful 9k, both sprinkled with breathtaking diamonds or gemstones of your choice. The silver version is also available with any gem you choose.
My little studio is in Devon and I specialise in artisan jewellery. I feel my style lends itself beautifully to inspired-by-nature rings and other jewellery, this piece is a great example of this.
Perfect as an anniversary ring, eternity ring, infinity ring, unusual engagement ring or a great opportunity to design your own wedding ring - it's something that can be treasured for years to come and makes a great family heirloom.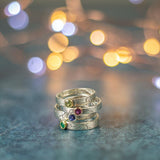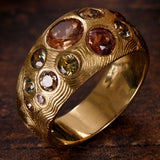 More from this collection