Solid Gold Celestial Rings - Women's Wedding Band
This Star map women's ring features the stars on the horizon seen from the exact time and place of your memorable moment.  It's beautiful as a wedding ring or a special gift ring.
This beautiful ring shows the stars in the sky at your exact moment in time - choose the moment you first laid eyes on each other, or the day of your engagement - it's up to you.

I hand make all these rings in my tiny little Devon studio in England.  I have a special piece of software that can show me the stars at the exact moment you choose, from an exact location. I look at these stars and then literally, I hand draw the star map in photoshop, so it can be laser engraved onto your handmade ring.  I like these rings so much and its so important to me that the stars are right I don't trust anyone else to do it!  
Then I laser engrave the star map I have made onto your rings for you so you have a unique design that no-one else in the world will ever have.
PLEASE remember to give me the precise TIME, LOCATION and DATE (DD/MM/YYYY) you wish us to plot the starmap for and the Ring Size Required from the list below. THIS IS MOST IMPORTANT!
These beautiful and elegant rings are highly personal, charming and understated, we don't do cheesy personalisation! They really are lovely.
I send them out with a fabulous printed out copy of the star map, and a little certificate of authenticity which shows your star date.
They come beautifully packaged in a box with my branded ribbon, and the inserts and the rings are branded inside with my logo. 
My rings come in a range of gold carats and colours to fit any style and budget, we also offer them in sterling silver.
Available in 9 carat rose gold, yellow gold or white gold, and 18 carat rose gold, yellow gold, white gold, green gold or grey gold. Also available in silver.
Choose from 3mm, 4mm or 5mm, 6mm, 7mm or 8mm Choose your size. If you need a sizer please indicate this on your purchase using the drop down menu and we will send one out to you.  If you are an American size just put a note to me and I will make it up in an American size.
I can also set with a diamond or two and you can have engraving on the inside.  It's all possible, just message me and let me know.
Ring Sizes
A, A 1/2, B, B 1/2, C, C 1/2, D, D 1/2, E, E 1/2, F, F 1/2, G, G 1/2, H, H1/2, I, I 1/2, J, J 1/2, K, K 1/2, L, L 1/2, M, M 1/2, N, N 1/2, O, O 1/2, P, P 1/2, Q, Q 1/2, R, R 1/2, S, S 1/2, T, T 1/2, U, U 1/2, V, V 1/2, W, W 1/2, X, X 1/2, Y, Y 1/2, Z, Z 1/2, Z+1, Z+2, Z+3, Z+4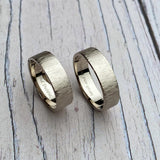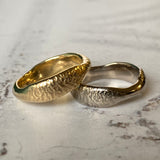 More from this collection