Solid Gold Artisan Bark Textured Wedding Rings
These beautiful bark textured artisan hand made rings are stunning and like no other botanical rings - the texture is elegant and understated and very reminiscent of Oak tree bark.
The rings are made by hand by me in my Devon studio, I am a goldsmith of over 15 years and I make all my own gold alloys.
You can choose from 3mm ring all the way up to 8mm - the ones shown here are 8mm so lovely and wide, but the texture looks just as good on a narrower band.
You can choose from 9 carat 14 carat or 18 carat and in peachy rose gold, mellow yellow gold, or ice white gold.
Message me to chat about what you want if you like, you can add diamonds to the ring for a bit of extra sparkle - all is possible!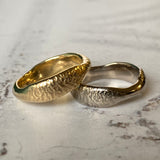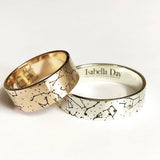 More from this collection