Handmade Baby Birth Ring with Birthstone
These star rings show the exact moment your baby was born, mapped in the stars. You give us your time, date and location and using a special piece of software we can see what the stars looked like at the moment your baby was born.

The rings are hand made and each one is sized specifically for you, we can use US or UK sizing. You can choose from any of our hand made alloys, we offer, grey gold, peach gold, silver and any combination of colour and carat is possible.

We are the only company in the whole world who make these rings, they are made in Devon in our studio. They make a lovely gift from new Dad to new Mum, but you can also have them for older babies! An excellent and unique mother's day present for any age or a special birthday gift for someone you love.

We have made to rings to celebrate all births, including sleeping babies and please contact us if you have a special personal request for internal engraving or anything else.

The stones we use are ethically sourced and are of high quality.

We offer a listing for every birth stone month but you can choose any stone for your ring, it doesn't have to be their birthstone. Just look at the listing and find the colour or type of stone you like best.

Inside the rings we can engrave you and your baby's name, you can choose which way you want to say this, we have written:
Corrine and baby Zander, Bella and Solly, Mummy Karen and Baby Jake, but really it's up to you.

To make up your ring correctly please follow the exact instructions for personalisation shown below:

Please remember to add your: TIME DATE, LOCATION & RING SIZE in the customer notes section during checkout.
If you could please write date in UK format i.e DAY/MONTH/YEAR. This is so that I can get your star map right! We will use the stone that correlates to the month given. If you would like another stone please contact us.
Please write the exact internal message you want - we will copy this as you write it so please spell check everything!
If you are not sure what your ring size is, click here or request a ring sizer above.

For your metal selection please make sure you have chosen the colour of the ring shank first, followed by the setting (the metal around the stone).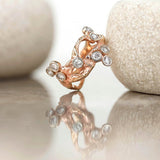 More from this collection