18ct White Solid Gold Custom Ring with Silk Texture
A pair of stunning grey gold wedding rings with a raw silk texture. These rings are hand made to order and are made with my very own 18 carat high palladium alloy not available anywhere else. You can see from the beautiful photos here how the colour of the gold glows. These are not plated - this is the actual colour the rings and they will never change.

 I have tagged them as white gold because there is no grey gold option, it's a very unusual alloy and it is my recipe.

The rings are hallmarked here in the UK with the London Assay office.

I am an artisan jeweller so everything is made by me - contact me if you want something different and I can give you a quote.

The lovely texture here is hand made carefully on each ring and really glitters ad you move the rings around.

These rings are 6mm wide but I can larger and smaller too.

The price is for both rings - the price includes two rings, both engraved inside, and sized up to an X. Larger sizes can be accommodated but will affect he price.

Please message me for a sizer and I will send one straight out to you.
I can also set with a diamond or two and you can have engraving on the inside.  It' s all possible, just message me and let me know.

Ring Sizes
A, A 1/2, B, B 1/2, C, C 1/2, D, D 1/2, E, E 1/2, F, F 1/2, G, G 1/2, H, H1/2, I, I 1/2, J, J 1/2, K, K 1/2, L, L 1/2, M, M 1/2, N, N 1/2, O, O 1/2, P, P 1/2, Q, Q 1/2, R, R 1/2, S, S 1/2, T, T 1/2, U, U 1/2, V, V 1/2, W, W 1/2, X, X 1/2, Y, Y 1/2, Z, Z 1/2, Z+1, Z+2, Z+3, Z+4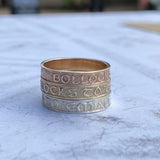 More from this collection