14ct yellow gold Bombè with ethically sourced sapphires & champagne diamonds
This Bombè ring was made, engraved and set entirely by hand.
It is a one of a kind piece made by Master Goldsmith Ford Hallam Kinko Shi from The Remarkable Goldsmiths.
The size of this ring is UK size Q, this ring cannot be resized.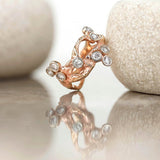 More from this collection