Solid Gold Rose Twig Ring
Here we have our lovely new addition to our twig range, stackable solid gold rose twig ring. Made from the same twig as our rose twig bangles, these rings would make a wonderful set along side our other bangles or our twig hoop earrings.

This rose twig was found in the rose garden in the grounds of Cockington, Devon. We have a variety of different twigs in our collection including, mulberry twig, oak twig, and ash twig. 

This rose twig ring would make the perfect gift for a friends & family, a loved one or just a. special gift for yourself.

We can make them in any colour of gold from 9ct-18ct.
 Please let us know which size you would like in the order comments, if you are not sure on your ring size please send us a message and we can send you a ring sizer.
Ring Sizes
A, A 1/2, B, B 1/2, C, C 1/2, D, D 1/2, E, E 1/2, F, F 1/2, G, G 1/2, H, H1/2, I, I 1/2, J, J 1/2, K, K 1/2, L, L 1/2, M, M 1/2, N, N 1/2, O, O 1/2, P, P 1/2, Q, Q 1/2, R, R 1/2, S, S 1/2, T, T 1/2, U, U 1/2, V, V 1/2, W, W 1/2, X, X 1/2, Y, Y 1/2, Z, Z 1/2, Z+1, Z+2, Z+3, Z+4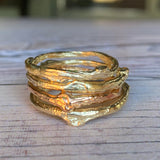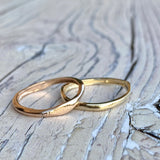 More from this collection