Discover Goldsmithing - Make your own gold ring
Come and make a solid gold ring in our beautiful and fascinating Atelier in the historic estuary town of Dartmouth in Devon.  Isabella Day and Ford Hallam will walk you through the whole process and be on hand every step of the way to help you make the most beautiful solid gold ring that you can wear forever.  Everyone will be so amazed that you made your ring, and discovering your creative self is a wonderful and fulfilling thing to do.
Your day includes 9 carat grey gold, our own beautiful alloy.  You can also upgrade to 14 carat, 18 carat or even 22 carat gold.  We only offer 9 carat gold rings in our pale grey gold alloy as this is easiest to work for new makers.  In 14 carat and 18 carat we offer many colours, but our most popular are grey, peach and wheatsheaf yellow.
In the morning we have a play, looking at textures and patterns, how to cut metal and file and shape.  After lunch which is included in your day and which takes place at a lovely local cafe called Smith Street Deli, we go on to make your ring as you have designed.

Ford Hallam is the world's leading expert at Japanese metalsmithing and is also a master goldsmith, and Isabella Day is a fellow of the Institute of Professional Jewellers, and one of 2022's top 100 female entrepreneurs.  With over 60 years experience in goldsmithing between them you can be sure you are in good hands. 
Our Discover Goldsmithing days are hugely popular and we get very booked.  They take place every Friday with a maximum of three students so we can really take care of you.
This is great day to buy for yourself, or as a gift for a loved one.  It's perfect for Mums or daughters, husbands or sons, partners and  friends and you can even come as a group of three. If you are gifting this it comes with a beautiful cover for the voucher and ribbon.
The price is per person and you can choose on the listing which carat you prefer, or your recipient can upgrade at a later date if they choose. 
We are really looking forward to welcoming you into our jewellery studio in Dartmouth. Discover Goldsmithing days are our favourite and we love helping you make beautiful rings.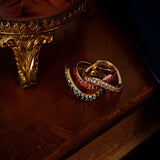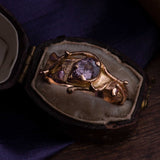 More from this collection