Fairytale Twig Ring, Rose Bramble and Thorns Ring, Sleeping Beauty Ring
This is a completely one off unusual fairytale twig ring, like a forest of roses climbing around the stone. If you are here I expect you a re looking for something no-one else has, this is the only one of its kind.


I made this ring as a proof of concept for another bespoke ring commission which you can actually see in the video. My client was writing her thesis on feminism in fairy tales and we talked around the idea of a rose forest entangling the ring, thinking about Sleeping Beauty and things being hidden in the ring. I wanted to give a feeling that you had to keep looking, deeply into the ring to see all the hidden textures.

The ring has rose brambles and seven tiny leaves all around a beautiful lilac spinel in the centre. There is a lilac sapphire set and a tiny pink one hidden under the bramble. Around the back is a champagne diamond.

The ring is decorated using the ancient Japanese art of kinko, using a hammer and punch to carefully texture each area. Its entirely hand made.

The ring is made from my own blend 18 carat peach gold alloy which is created from recycled fine gold.

It measures about 8mm wide in total and is size Q1/2

Feel free to message if you want to know more or want more images.
Please note all our items are non-returnable, but we can credit or resize.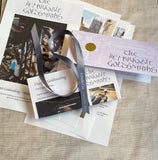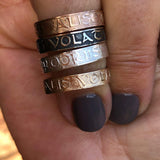 More from this collection